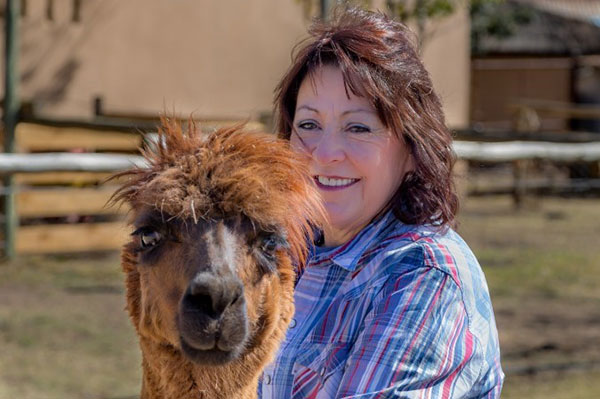 As far back as Jenny can remember, she has had a great affinity and a telepathic connection with animals of every species. Tuning in to the thoughts and feelings of animals was as easy as breathing for her and her dream growing up was to work with animals one day.
She grew up in an animal loving family and her ability to ''speak'' to animals (and hear them) she believes came from her mother who was also extremely intuitive and supported her in everything she did.
In 2002 her dream came true when she travelled to The Isle Of Man where she fine-tuned her telepathic skills under the guidance of World renowned Animal Communicator, Amelia Kinkade.
On her return from the Isle of Man she started helping friends with their "problem animals" After just three months, she was in such demand that she had to give up everything else she was doing at the time and go into animal communication and healing full time. This was when she founded the Animal Healing Centre and devoted her entire life to improving the quality of life of animals by educating people and helping them to develop a deeper understanding of their animal friends.
Over the years she studied many different modalities with the thought she would be able to apply all the techniques to her animal work. She studies psychic development, pet reflexology, Tellington touch, mediumship, ESP healing and went on various spiritual awareness courses.
Many years later she became a Reiki Master specialising in working on animals ''and even their humans at times'' All the wealth of knowledge and techniques she has learnt over the years she applies into her workshops, courses and consultations.
Her main objective is to "empower" people so that they too will be able to make their own educated decisions and work with their own (and other) animals to help them through their various experiences.
Apart from the work she does with animals her dream is to educate as many people as possible so that they in-turn will educate others ''and so the knowledge grows'' It is all about ''sharing'' and not ''holding'' There is no point in learning and experiencing if you can't share and help others she believes.
A short resume of the recognition she has received in her work as an animal communicator ''or whisperer'' as some people call her
In 2005 she published her first book "Paws & Listen to the voices of the animals" as well as the Paws & Listen Meditation CD and pack of Animal Inspiration cards.
Since then, she has been recognised in various publications and societies around the world.
2006 - She became the first and only South African Animal Communicator to be invited to be listed in the "Species Link magazine" This is a publication based in USA but is distributed in many countries and lists all the reputable animal communicators around the world.
2007 - Saw her nominated for Woman of the Year.
2008 - She was listed and included amongst the "Who's Who of Southern Africa".
2009 - She became affiliated and was listed among the Maddison's Who's Who in USA.
2014 - She was one of 12 professional animal communicators chosen around the world to take part in the "world animal speak summit" speaking to 150 different countries around the world.
She has been featured on the Television programmes Free Spirit, Spirit Sundae and the I Africa news channel in Namibia and most recently a Teen Scene programme on SABC TV geared towards the young. There have been numerous articles written about her and by her focusing on the animal work she does around the country and beyond both in magazines and newspapers. She has also been interviewed on many different and leading radio stations around the country.
She has numerous celebrity clients both human and animal.
Also see: The Animal Team