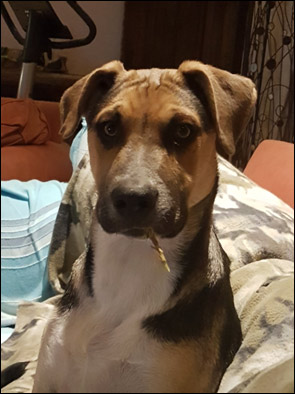 Sherlock
Sherlock joined the animal healing team three years ago.
He was a rescue dog coming from a township and has fitted in extremely well with the rest of the family.
He just loves spending time with Isis, and we can often see him walking around the garden with her. However, she doesn't like it very much when he sits on her head while she is trying to sleep.
He is extremely intelligent and has a very busy mind but loves attention from people he knows but can be a little suspicious of those he doesn't know well.
Sherlock is loving and gentle and so sensitive that he is very easy to connect with on a telepathic level. Although he can sometimes be quite an intense boy.
Sherlock is an asset to the animal healing center and just loves being part of the work we do here.
~~~~~~~~~~~~~~~~~~~~~~~~~~~~~~~~~~~~~~~~~~~~~~~~~~~~~~~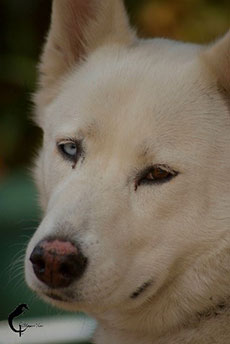 Isis
The day Isis arrived at Jenny's home it was love at first sight for her. She was madly in love with Riff-Raff and became his constant shadow. Following him everywhere he went and copying his every move. She became his total twin and to this day still mirrors everything he does.
Isis has an intelligence all of her own. Something needs only to be said to her once and she never forgets. She has learnt a huge amount just by watching the other dogs and if one of them is asked to do something, she will watch what they do and when asked will copy them and do exactly the same. She is the only dog in Jenny's family that has never been to school. She learns everything by observing others.
The first workshop she ever helped Jenny with was a healing workshop and she had never done this before. Jenny called her in to demonstrate to all the participants on this workshop exactly where the energy centres were on a dog and how to do to a healing session on an animal. She sat in front where everyone could see her and as Jenny touched each energy centre she turned her body so that everyone could clearly see where these centres were.
She became a very powerful healer. Just spending a few minutes with her helps you let go of stress and feel much better.
Isis has an extremely special ability. Every time the cats have a squabble she always gets up from where she is and stands between them until they each move off in their own separate ways.
~~~~~~~~~~~~~~~~~~~~~~~~~~~~~~~~~~~~~~~~~~~~~~~~~~~~~~~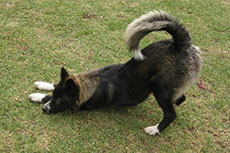 Gabriel
Gabriel joined the family and the animal healing team in December 2014. He was an eight week old puppy when he came to live with us. The moment he arrived he settled into the family. It was as if he had always been here. He is a Husky/Border Collie. Extremely intelligent and VERY responsive.
The minute he arrived he fell head over heels in love with Isis so now Isis has a permanent attachment to her neck or tail. She is SO patient with him.
He is just SO full of fun and character and is an extremely wise boy. He has such an amazing ability of making people laugh and lifts anyone up who might be feeling a little down. He is a powerful healer and works mostly by healing on the emotional level.
He is always ready for a game, however sometimes the cats really don't feel like playing with a ''dog'' but much to his delight they still chase him around from time to time.
Gabriel is an absolute joy and I can't wait to see where his path leads him and how he develops as part of The Animal Healing Team.
~~~~~~~~~~~~~~~~~~~~~~~~~~~~~~~~~~~~~~~~~~~~~~~~~~~~~~~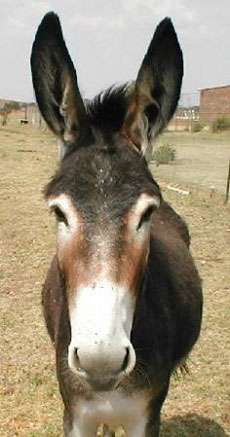 Lucy
One day Jenny took a group of healers to The Highveld Horse Care Unit to do their practical exams connecting with and sending special healing to the horses there. When they got there Jenny was taken to see a baby donkey that had arrived five days earlier. She and her mother had been pulling a cart in a township when a speeding car had come around a corner and crashed into them. The Net-Care people arrived on the scene and stayed with the donkeys until the Horse Care unit arrived. The mother had broken her back so sadly had to be put down right there. Lucy ''as we called her later'' was taken to the horse care unit.
When Jenny met her she was a scared, timid and traumatised little donkey. But after spending a bit of time with her, Lucy started to follow Jenny around. At the end of the day everyone went home with certificates and Jenny went home with a donkey.
Lucy had joined Jenny's family and the animal healing team.
She has proved to be the most incredible healer and has helped educate many healers over the years she has lived with Jenny.
The day she arrived at Jenny's home she took one look at the horse Red and fell in love. Today they are totally inseparable and go everywhere together.
~~~~~~~~~~~~~~~~~~~~~~~~~~~~~~~~~~~~~~~~~~~~~~~~~~~~~~~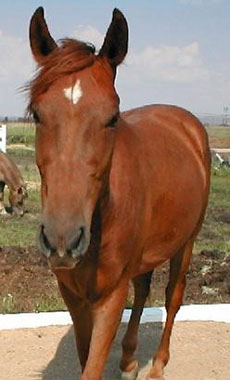 Red
Red is such a gentleman. He helps on all the communication workshops and also takes part in the healing courses. His daily duty is to look after all the donkeys and make sure that they are keeping out of trouble.
He has the gentlest nature but also has quite a stubborn streak.
He is incredibly open and ready to communicate with anyone and everyone that wants to chat to him. He is quite an amazing boy and helps people get over fear issues. He feels that if you have fear issues, it will hamper your life and you won't be able to grow until you lose the fear.
His job is to help people see that and work through it so that they can become whole and ENJOY the lives that they have chosen for themselves.
Red heals on the emotional side and also helps people on a very deep level to discover their true soul purpose.
~~~~~~~~~~~~~~~~~~~~~~~~~~~~~~~~~~~~~~~~~~~~~~~~~~~~~~~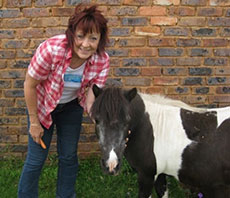 Tootsie
Tootsie seen here with Jenny has been living with Jenny since before she started the Animal Healing Centre. If anyone needs to know any secrets about Jenny, Tootsie is the one to ask. She has been there through everything and seen it all.
Everybody that works with her falls in love with this spunky miniature horse.
She is just SO well-mannered and gentle. She loves being a part of the telepathic communication workshops and has helped train many people in the art of telepathic communication.
She also enjoys helping with the various healing courses but her favourite duties are helping on the communication workshops. She says that some of the people that she gets to communicate with are really quite entertaining and she loves it. She also says she learns a lot from the people she interact with on a daily basis.
~~~~~~~~~~~~~~~~~~~~~~~~~~~~~~~~~~~~~~~~~~~~~~~~~~~~~~~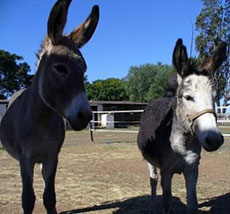 Jessica & Timothy
Jessica (left) & Timothy (right) were the only two surviving donkeys of fourteen that got out and ended up on a busy Johannesburg highway. Jenny subsequently found them on one of her visits to the Highveld Horse Care Unit. Needless to say she ended up adopting them and bringing them home to join her rapidly growing family.
They have such a light and playful energy. They have fitted in so well to all the workshops but haven't yet decided whether they prefer the healing ones or the communication ones. They are very good all-rounders and fit in wherever they are needed.
EVERY day to them is exciting. They love every minute of their lives. They also really enjoy people visiting them and giving them compliments. They continue to share their love with anyone who spends time with them. They have the ability to open the hearts of others.
~~~~~~~~~~~~~~~~~~~~~~~~~~~~~~~~~~~~~~~~~~~~~~~~~~~~~~~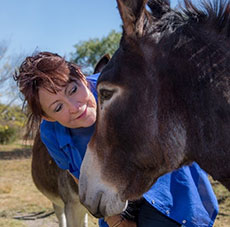 Zorro
Zorro grew up in Soweto. Late one night he took a wrong turn and ended up in the middle island of the Soweto highway. Being a black donkey, no-one could see him in the dark and alas the Highveld horse care unit rescued him and took him in.
He had been well looked after and was a very happy and quite a well-adjusted donkey but after a fruitless search trying to find his owners lasting many weeks the decision was made to rehome him.
Enter Jenny.
To cut a long story short, Zorro came to live with Jenny and the team. He is considered a very special little boy and has given Jenny many happy and entertaining moments.
He feels that it is his duty to make people laugh.
Laughter always heals says Zorro and has now taken on the duty of healing through laughter.
~~~~~~~~~~~~~~~~~~~~~~~~~~~~~~~~~~~~~~~~~~~~~~~~~~~~~~~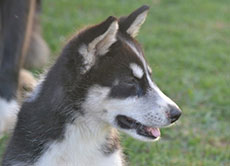 Leyla
The most recent animal to join the family is Leyla. She came from the Husky Rescue as a little puppy. Leyla is SO full of fun and has ''injected'' some enthusiasm into the family. She always has a LOT to say and eagerly voices her opinion on literally everything.
Leyla has a very special relationship with Thirty and spends a lot of her time playing with him.
In her wisdom she has managed to teach us a lot about being patient as well as the art of how to "play" to re-energise ourselves.
Also see: Jenny Shone